Want to Study in Australia?
Let's make it easy for you.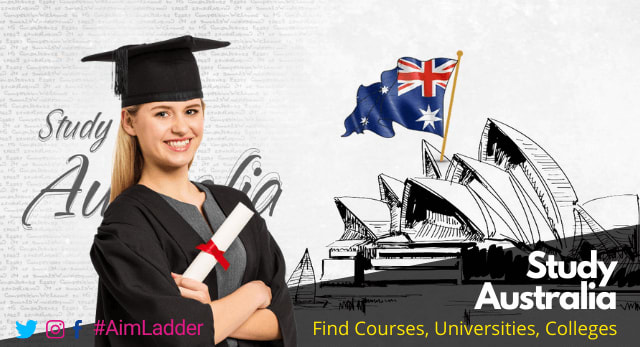 We represent Top 50 Universities/Colleges & 1700+ Programs in Australia.
All our counsellors are professionally certified and many have been international students themselves. Your assigned counsellor will work through all the details and processes to make sure you will have the best possible fit your future university and your area of study.
We Work Closely With Australian Universities To Give You The Best Range Of Choices. Our specialist Australian University application services can help you receive an offer from Australia's top universities.
Arrange your free consultation with our British Council trained consultants today.
With Australian student visa you can:
Participate in an eligible course of study
Bring family members to Australia with you
Apply online in or outside Australia
Up to 100% Scholarship For Indian Students
Apply for a range of scholarships offered by Australian Universities
Discount on Tuition fees for Australian undergraduate and graduate degrees.
Stay and Post Study Work Visa in Australia
Now you are eligible to stay back in the Australia for 2 years after completing your degree under the new Graduate Immigration Route.
Up to 5 years and in line with your enrolment.
Quality Education
Many countries like to follow the Australian education system, as its quality is considered as the best in world
Benefits:
Work while studying and Work Permit after studying
Scholarships and Financial Support
Unique Culture
Internationally Recognized Universities
Quality Education
Excellent Support System
UNIVERSITIES IN AUSTRALIA
Sr No.
Name
Website
1
The University of Queensland, Brisbane (CRICOS Code 00025B)
www.uq.edu.au
2
The University of Adelaide, South Australia (CRICOS Code 00123M)
www.adelaide.edu.au
3
The University of Newcastle, Callaghan (CRICOS Code 00109J)
www.newcastle.edu.au
4
Queensland University of Technology, Brisbane. (CRICOS Code 00213J)
www.qut.edu.au
5
Curtin University (CRICOS Code: 00301J)
www.curtin.edu.au/
6
Macquarie University, Sydney (CRICOS Code 00002J)
www.mq.edu.au/
7
RMIT University, Melbourne. (CRICOS Code 00122A)
www.rmit.edu.au/
8
University of South Australia, Adelaide. (CRICOS Code 00121B)
www.unisa.edu.au/
9
University of Tasmania, Hobart & Launceston. (CRICOS Code 00586B)
www.utas.edu.au/
10
Deakin University, Melbourne & Geelong. (CRICOS Code 00113B)
www.deakin.edu.au/
11
James Cook University, Townsville, Cairns & Brisbane. (CRICOS Code 00117J)
www.jcu.edu.au/
12
Swinburne University of Technology, Melbourne. (CRICOS Code 00111D)
www.swinburne.edu.au/
13
Griffith University, Gold Coast & Brisbane (CRICOS Code 00233E)
www.griffith.edu.au/
14
Flinders University, Adelaide. (CRICOS Code 00114A)
www.flinders.edu.au/
15
Western Sydney University, Parramatta. (CRICOS Code 00917K)
www.westernsydney.edu.au/
16
CQUniversity Australia, Sydney, Melbourne, Brisbane & Perth. (CRICOS Code 00219C)
www.cqu.edu.au/
17
Australian Catholic University, North Sydney, Melbourne, Brisbane, Canberra, Adelaide. (CRICOS Code 00004G)
www.acu.edu.au/
18
Charles Sturt University, Wagga Wagga, Sydney, Melbourne & Brisbane. (CRICOS Code 00005F)
www.csu.edu.au/
19
Southern Cross University, Gold Coast, Sydney, Melbourne & Perth. (CRICOS Code 01241G)
www.scu.edu.au/
20
Torrens University, Adelaide. (CRICOS Code 03389E)
www.torrens.edu.au/
21
University of Southern Queensland Sydney Education Centre. (CRICOS Code NSW 02225M)
www.usqsydney.nsw.edu.au/
22
Federation University, Melbourne & Sydney (ATMC). (CRICOS Code 000103D)
www.atmc.edu.au/courses/federation-university-australia/
23
University of Sunshine Coast, Melbourne & Sydney (ATMC). (CRICOS Code 01595D)

www.atmc.edu.au/courses/university-of-the-sunshine-coast/melbourne-campus/
24
Victoria University, Sydney Campus. (CRICOS Code 02475D)

www.vu.edu.au/vu-sydney/
25
Latrobe University, Sydney Campus. (CRICOS Code 00115M)

www.latrobe.edu.au/sydney/
26
Le Cordon Bleu, Adelaide, Sydney, Melbourne & Perth. (CRICOS Code 02380M)

www.cordonbleu.edu/australia/home/en/
27
TAFE International Western Australia. (CRICOS Code 00020G/01723A)

www.tafeinternational.wa.edu.au/
28
UTS Insearch, Haymarket, New South Wales (CRICOS Provider Codes: UTS Insearch 00859D, UTS 00099F)

www.insearch.edu.au/
29
LaTrobe Melbourne. (CRICOS Code 03312D)

www.latrobemelbourne.edu.au/
30
Deakin College, Melbourne. (CRICOS Code 01590J)

www.deakincollege.edu.au/
31
Edith Cowan College. (CRICOS Code 01312J)

www.edithcowancollege.edu.au/
32
Griffith College, Gold Coast & Brisbane. (CRICOS Code 01737F)
www.griffith.edu.au/college/
33
Sydney Institute of Business & Technology. (CRICOS code 01576G)


www.sibt.nsw.edu.au/
34
South Australia Institute of Business & Technology, Adelaide. (CRICOS Code 02193C)

www.saibt.sa.edu.au/
35
Curtin College, Perth. (CRICOS Code 02042G)

www.curtincollege.edu.au/
36
Eynesbury College, Adelaide. (CRICOS Code 00561M)

www.eynesbury.navitas.com/
37
Newcastle International College. (CRICOS Code 03293B)

www.nic.nsw.edu.au/
38
Western Sydney University Sydney City Campus (CRICOS Code 00917K)

www.westernsydney.edu.au/city/
39
University of Canberra College, Canberra (CRICOS Code 00212K)

www.canberra.edu.au/uc-college/
40
Australian College of Applied Psychology, Sydney (CRICOS Code 01328A)

www.acap.edu.au/
41
Australian National University College, Canberra. (CRICOS Code 01682E)

www.anucollege.edu.au/
42
Flinders International Study Centre, Adelaide. (CRICOS Code 01682E)

isc.flinders.edu.au/
43
The University of Sydney (Through Taylors College) (CRICOS Code 00026A)

www.taylorssydney.edu.au/
44
The University of Western Australia, Pathway Program (Through Taylors College) (CRICOS Code 01682E)

www.taylorsperth.edu.au/your-pathway-to-uwa/why-taylors-college-perth/
45
Melbourne Institute of Technology, Sydney & Melbourne. (CRICOS Code 01545C, 03245K (NSW)

www.mit.edu.au
46
Australian Technical & Management College, Melbourne. (ATMC CRICOS Code 03013D)

www.atmc.edu.au
47
SAE Institute, Brisbane, Sydney, Melbourne, Adelaide & Perth. (CRICOS Code 003121)

sae.edu.au
48
University of Adelaide College (CRICOS Code 00123M)

college.adelaide.edu.au
49
Murdoch Institute of Technology, Perth. (CRICOS Code 03127E)

www.murdochinstitute.wa.edu.au
50
International Institute of Business & Information Technology, Sydney & Adelaide. (CRICOS Code 01917B, 00103D)

www.feduni-ade.iibit.edu.au
51
ECA Graduate Institute (CRICOS Code 02997M)

egi.eca.edu.au
52
Asia Pacific International College, Sydney & Melbourne. (CRICOS Code 03048D)

apicollege.edu.au
53
Strathfield College, Sydney & Melbourne. (CRICOS Code 02736K)

www.strathfieldcollege.edu.au
54
English Language School in Sydney. (CRICOS Code 02644C)

elsis.edu.au
55
Sarina Russo Institute, Brisbane (CRICOS Code 00607B)

www.sri.edu.au
56
International College of Management Sydney. (CRICOS Code 01484M)

www.icms.edu.au
57
The Imperial College of Australia, Melbourne. (CRICOS Code 02858M)

www.imperial.edu.au
58
Education Access Australia, Melbourne. (CRICOS Code 02450B)

www.eaa.edu.au
59
Engineering Institute of Technology, Perth (CRICOS No: 03567C)

www.eit.edu.au
60
New England College of Technology, Brisbane & Sydney (CRICOS NO. 03113M)

www.nec.edu.au
61
MEGA College, Sydney (CRICOS No. 02657J)

www.mq.edu.au/
62
Canterbury Business College, Sydney (CRICOS Code 01899K)

www.canterburybc.com.au
63
Canterbury Technical Institute, Brisbane (CRICOS Code 02938M)

cti.qld.edu.au
64
Canterbury Language Academy, Sydney (CRICOS Code 02534J)

canterburyla.com.au
65
Australian Institute of Higher Education, Sydney (CRICOS Code 03147A)

www.aih.nsw.edu.au
66
Academies Australasia Polytechnic, Melbourne (CRICOS Code 02439G)

www.aapoly.edu.au
67
Excelsia College, Macquarie Park (CRICOS Code- 02664K)

excelsia.edu.au
68
ExcelsAIT- Academy of Information Technology (CRICOS: 02155J)
ia College, Macquarie Park (CRICOS Code- 02664K)

www.ait.edu.au