IELTS Online Coaching
At Aim Ladders, we provided dedicated course for those who are aspiring to clear IELTS Exam with an objective to study or work abroad. We have helped hundreds of students in securing good scores because of which we are recognized institute for Online IELTS Preparation.
If you are a full-time student or a working professional, this IELTS Online Training is designed just for you! you get the advantage of a comfortable learning environment leading to greater learning outcomes
Authorised IELTS Registration Centre
Aim Ladder is an authorised registration centre for the IELTS Exam. This means, you can now register for your IELTS exam right with us! There is no additional charge levied on credit cards when you register for the test with us. You pay only for IELTS Online Coaching.

IELTS™ Registration:
The test is of two types – Academic and General Training. You can register for the test online on their website. The test is taken on 48 dates per year, thus candidates can pick a date of their choice. You need a valid passport as proof to register for the test. 
In India, the IELTS Exam costs INR 14000 (till 31 March 2021).  
IELTS Fee Update – IELTS test fees has been revised to INR 14,700 for registrations from 1st April, 2021 onwards.
The registration process is as follows.
On the official website, click to book a test.

From the drop-down menu, search for your preferred test location.

Complete the registration form and pay the test fess online, or you can download the form and submit it at a local test centre.

The test centre will then send you a confirmation with time and date.
In case if you have not registered for IELTS exam, we are Official Registration Center of IDP and British Council. For IELTS registration at no extra cost, call on +91-96670 05776 or write us at contact@aimladder.in
If you're registering through British Council or IDP, follow these steps.
On their website, click to register for the test.

Select from the choices of test, test type, and the test city.

Select a convenient test date from the list.

Fill all the details in the application form carefully.

Upload a scanned copy of your passport.

Review all details and make your payment.
IELT Result & Score:
IELTS score is declared 13 days after the test. The score can be check online, and you will receive the score card after a few days. The score is valid for two years. 
Each section of the IELTS test paper receives a Band Score out of 9. These are then compiled into an overall score on a scale of 1 – 9. 
9 = Expert user, complete understanding of the language
8 = Very good user, full operational command of the language
7 = Good user, good command of the language with occasional inaccuracies
6 & 5 = Competent and modest user, effective command of the language but with mistakes
4 & 3 = Very limited user
2 & 1 = Almost non-user
IELTS Online Coaching - Live Session
You will get one on one live session from certified trainer.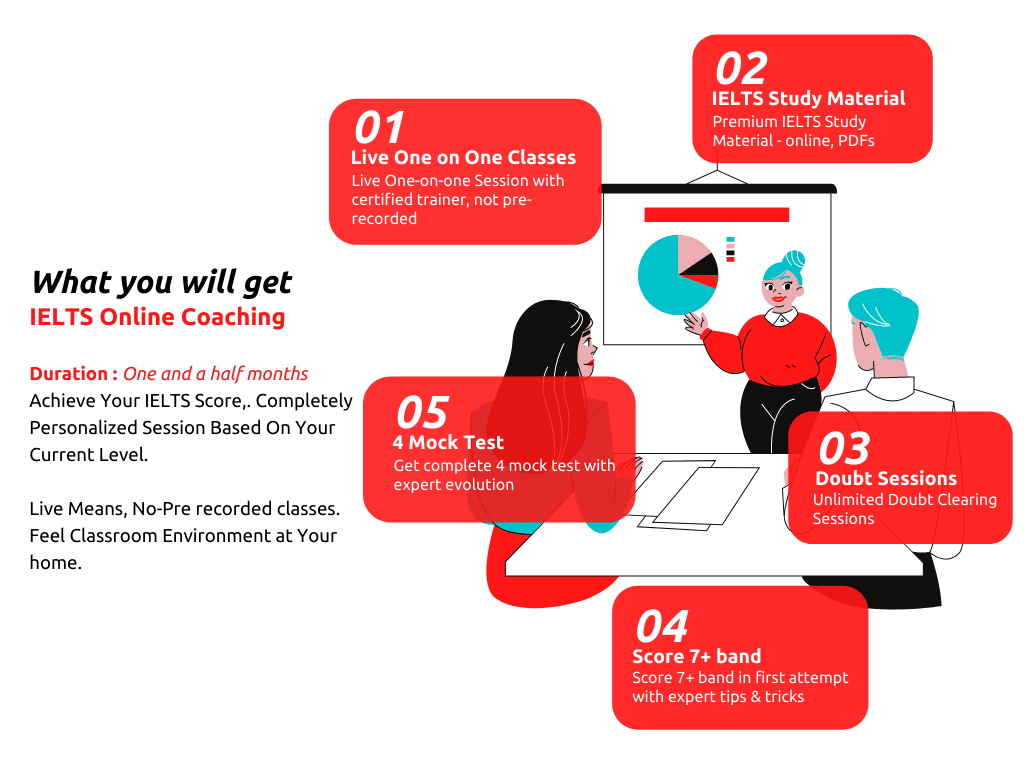 Why Join IELTS Online Coaching?
Achieve Your IELTS Score, By Learn From Home.
Completely Personalized Session Based On Your Current Level
Live One-on-one Session with certified trainer.
Live Means, No-Pre recorded classes. Feel Classroom Environment at Your home.
Learn from trainer who achieved 8.5 Band in IELTS.
Learn Tips & Tricks To Score 7+ Band Guaranteed.
Teaching methodology aimed at simplifying your IELTS preparation
Unlimited doubt-clearing sessions
Mock Test & Complete Evaluation
IELTS™ FAQ:
Which module of IELTS should I choose?
IELTS has two modules Academic & General Academic Module is for: • Pursuing Higher studies at university/college. • Taking up fellow programs. • Joining a professional organization in an English – speaking country. • Practicing as doctors and nurses abroad. General Training module: • Obtaining a work permit • Engaging in any work-related training. • Immigration to an English-speaking country.
Is IELTS very difficult?
IELTS tests you for all the language skills that you may need later. The test is not more difficult than any other language proficiency tests.
How many times can I take the IELTS Test?
As many times as you wish to, there is no mandatory gap to reappear in the test.
What documents I need on the test day?
On entering, the invigilator asks you for original passport, Hall ticket. After confirming your identity; you are asked to leave your bag, mobile and other material at the front of the room. No papers are allowed inside except the documents required. You sit at your desk bearing your name and IELTS number.